Adapting to Malaysia's payment quirks, Razer Merchant Services rolls out cash payments with 7-Eleven
A couple of months back, Sultan Ibrahim of Johor bought a 15 percent stake in Malaysia-based payment company MOL at US$120 million. Today, a cash payments service for ecommerce merchants named Razer CASH has just been rolled out in Malaysia – the result of a partnership between Razer Merchant Services, Southeast Asia's leading online payment solutions provider, and 7-Eleven Malaysia, the country's largest convenience store chain.
With this new service, ecommerce merchants will now be able to accept cash from consumers via the nearest 7-Eleven outlet and get notified in real-time whenever payments are made.
The creation of Razer CASH isn't very surprising, given that the uptake of credit card and online payment is still dismally low. In particular, according to Nielsen's Global Saving and Investment Strategies, 60 percent of Malaysians prefer cash payments over other options, as can be seen in the diagram below.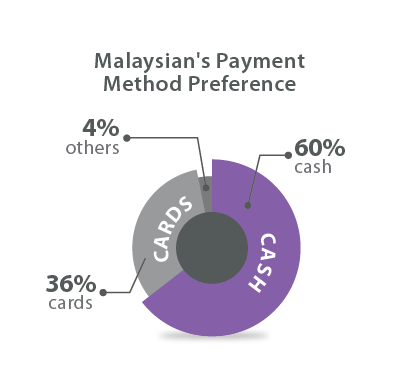 To this point, Razer Merchant Services co-Founder and CEO, Eng Sheng Guan added, "Razer CASH offers a fraud free and convenient way to pay cash for online transactions while enabling merchants to reach a wider customer base that they may not have been able to cater for in the past."
Consumers will now have the choice to pay using the Razer CASH option, in addition to current payment options such as VISA and MasterCard via the Razer Merchant Services payment page. With this service in place, Razer CASH expects to boost merchants' sales by 40 percent.
Razer CASH will first be made available at selected 7-Eleven stores across Klang Valley. 735 stores in Klang Valley are already offering this convenient payment option, and more stores throughout the country will be joining in soon. Their aim is to equip all 1,569 7-Eleven stores in Malaysia with this service by July 2014.
Repost from TECHINASIA.